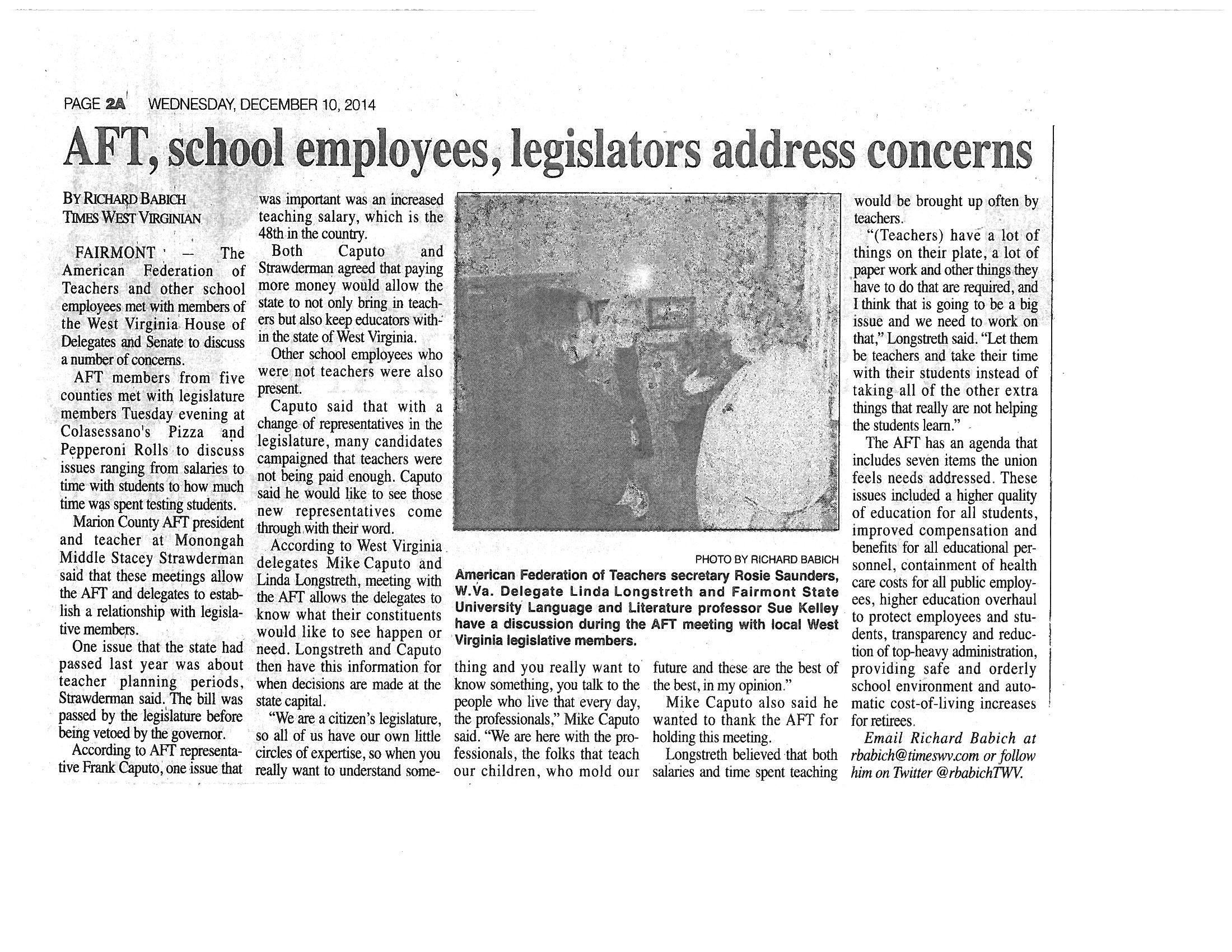 AFT locals are hosting Holiday/Legislative Meet & Greet events across the state this winter. These events are a fantastic opportunity for AFT members to meet legislators and discuss education in a relaxed, social atmosphere. It's also a chance to enjoy great fellowship with AFT members from other counties.
more
AFT-Lewis was officically welcomed into the union during the AFT-WV 2014 Convention, held at Snowshoe Mountain Resort. After the presentation of the local banner and remarks by AFT and AFL-CIO leaders, new AFT-Lewis President Aaron Radcliff gave a fantastic speech before convention delegates.
Congrats to AFT-Lewis members on reaching this exciting milestone!
more
AFT-WV Update: IRS Retirement Ruling
more
Recently the Hampshire County Board of Education considered resurrecting the dress code policy proposals that AFT had fought back several times.
After much discussion on the issue with AFT-Hampshire leaders,  the  Hampshire County Board of  Education decided to table a proposed dress code policy for school employees. The Board of Education decided at the Dec. 1 meeting to delay any action on a new policy until  an administrative law judge  issues a decision on a pending Lewis County grievance regarding teacher dress codes.
more
Reconnecting McDowell Board Votes to Build 'Renaissance Village' from Ground Up
 
Welch, W.Va.—The Reconnecting McDowell board of directors voted today to demolish the long-abandoned Best Furniture and Katzen buildings and build an apartment building for teachers and other professionals from the ground up.
more