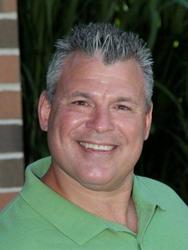 Tell us about your job.
I am a Visual Arts teacher at Morgantown High School. I teach Art 1, Art II, Art II Honors, and Graphic Arts. This position as it affords me the opportunity to push technology in the arts, as well as more traditional means of visual communication. One minute during the day I may be holding a paint brush, the next minute I may be pushing a keyboard and wrestling a mouse. I really enjoy my high school placement.
How long have you been working in education?
I have been teaching in Monongalia County since 1995. I spent the majority of my time at Cheat Lake Middle school until moving to MHS during the 2008-2009 school year.
What's the best thing about your job?
I enjoy this age group of student. Being in an elective discipline, the students respond well to instruction. I really try to push 21 Century skills in my classroom, and stress the use of technology in making art. It has been a pleasure to work in a school that can supply the tools to do so. I am also blessed with two other visual arts teachers with which I can collaborate. I can not say enough about our modified block schedule that allows us 90 minutes of instruction that really opens the door to hands-on disciplines such as art.
Prior to your activism in AFT, did you have any experience with a union?
Both of my parents were shop stewards in the local IUE in Fairmont, WV. The two worked for WH/North American Phillips. I enjoyed a strong, proud union upbringing. Back then, in Fairmont, union activism was as much a part of the community as city or state government. I can remember strikes, union holiday dinners, and IUE summer picnics. Our pee wee football team was sponsored by IUE. And of course there were the parent dinner discussions that always lead back to the plant and what was going on there. Sometimes I think my father was more proud of my being elected local president than when I graduated college.
How did you become involved or why did you join the union?
We had a problem at my old middle school. We had tried to contact another organization for over a week. They never showed nor returned a phone call. My AFT building rep made one phone call, and Frank Caputo, the area state representative,  was there by the end of the day. I joined AFT-WV that moment. I was invited to a local meeting and have been active ever since.
Describe any roles have you had in the union...in your school, your local or in the state.
I have been a building rep in two schools. I was elected vice president of Mon. Co. local and served for a few years, then was elected president of the local. I was also proud to be elected as state executive board member.
I have been on several committees at the local and state level; Professional Issues, Political Action, Communications, Safe and Orderly Schools, to name a few.
Any other committees, boards or activities within education?
Local School Improvement Council, PTO, Faculty Senate President and VP. Safety Committee, Monongalia County Levy Committee, and the list goes on and on…
Describe a rewarding experience that you have had through your involvement in the union.
There are really too many to name, but I think being the Retro Host for "The History of AFT-WV Game Show" was one major highlight of my union membership. We really had a great time with that one. It is also an adrenaline rush leading several hundred members in chants at a rally in the middle of the state capitol. I guess I enjoy being a spectacle for the unions' sake. ...What ever it takes to get the word out!
Are you involved in any other community or civic groups?
• Mon. Preston Labor Council
• Marion County Democrat Men
• The Moose #9
What hobbies and interests do you enjoy in your leisure time?
Being a dad, for sure! I would not say it is leisure time, but it is positively the most rewarding time I have ever spent. I also enjoy everything computer, art, gardening, mixed marshal arts (watching), science fiction, and being outside.
What is your favorite quote?
"Management is too important to be left up to management. "